Agaronia hiatula
(Gmelin, 1791)
Nomenclature
Species:
Agaronia hiatula (Gmelin, 1791)
SUMMARY
Distribution: Tropical Atlantic realm. West African Transition province (Cabo Verde, Senegal, The Gambia). Gulf of Guinea province (from southern Senegal southward, exact range unclear but at least to Sierra Leone).
This is the type species of Agaronia Gray, 1839.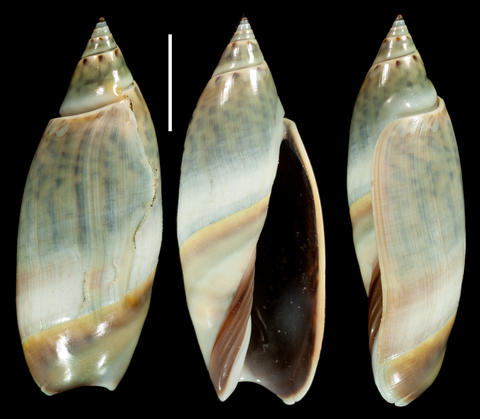 RV 1163f. The Gambia, Kotu, Kotu Point, crabbed, among rocks, February 23, 2016. Recent. Scale bar is 1 cm.
It differs from Agaronia pallida (Swainson, 1832), by being more slender, with a more acute apex, and by having a solid dark purple to brown columella, except for the most anterior lira, which are white. The dark columella tends to fade rapidly after exposure to the sun. Furthermore, it usually is more vividly patterned with dark streaks and/or dots all over the body whorl. It lacks the dark spot at the inner posterior of the aperture.
The shells of large specimens may grow to a length of over 60 mm.
The precursor of this extant species seems to be the well-known Agaronia ispidula (Linnaeus, 1758), which is a very common species in Aquitanian and Burdigalian (Miocene) deposits of the Aquitaine Basin (France).