Agaronia
Gray, 1839
SUMMARY
Extant Agaronia occurs in the Tropical Atlantic realm, Gulf of Guinea province (at least 4 species), the Tropical Northwestern Atlantic province (2 species), the Tropical Southwestern Atlantic province (1 species), and the Tropical Eastern Pacific realm, Tropical East Pacific province (5 species).
The type species is Oliva hiatula Lamarck, 1811 (a junior secondary homonym and synonym of Voluta hiatula Gmelin, 1791), a common species distributed along the West African coastline from Mauritania to Angola.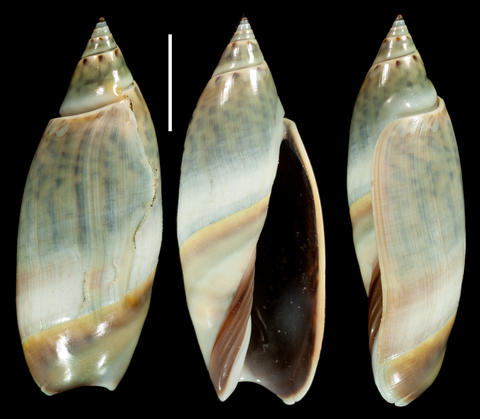 RV 1163f. The Gambia, Kotu, Kotu Point, crabbed, among rocks, February 23, 2016. Recent. Scale bar is 1 cm.
Sterba (2004) documented two type of spire morphology occurring among Agaronia:
Type A: spire conical, nucleus pointed, secondary spire callus only on anterior part of spire whorls.
Type B: spire low, nucleus mamillate, secondary spire callus completely covering whorls. These spire types are indicated in the tables below.
---
In the Gulf of Guinea province and West African Transition province (Tropical Atlantic realm) the following extant species are recognised:
---
In the Tropical Northwestern Atlantic province (Caribbean) and Tropical Southwestern Atlantic province (Tropical Atlantic realm) the following extant species are recognised:
---
In the Tropical Eastern Pacific realm the following extant species are recognised:
| Species | Distribution | Type |   |
| --- | --- | --- | --- |
| Agaronia griseoalba (Von Martens, 1897) | Guatemala to Ecuador | B | Figure coming |
| Agaronia jesuitarum López, Montoya & López, 1988 | Nicaragua | A | Figure coming |
| Agaronia nica López, Montoya & López, 1988 | Nayarit, Mexico, south to Costa Rica | B | |
| Agaronia propatula (Conrad, 1849) | Sea of Cortez, Mexico, south to Panama | A | Figure coming |
| Agaronia testacea (Lamarck, 1811) | Northern Sea of Cortez, Mexico, south to Chile | A | |