Callianax biplicata
(Sowerby, 1825)
Nomenclature
Species:
Callianax biplicata (Sowerby, 1825)
SUMMARY
Distribution: Temperate Northern Pacific realm. Cold Temperate Northeast Pacific province (Southern Alaska to northern California), Warm Temperate Northeast Pacific province (Southern California Bight).
A small species from intertidal to shallow sub-tidal (depth < 50 m), waters.
Being an extremely common species, this is probably the best documented olivoidean species. It is the type species of Callianax Adams & Adams, 1853.
Pillar Point Harbor, California, USA. Photo Ken-ichi Ueda (CC BY-NC 2.0)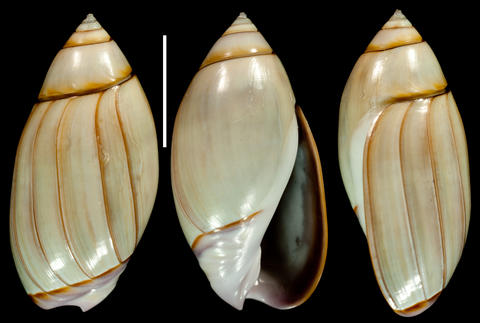 RV 2215a. Canada, British Columbia, Vancouver Island, Young Beach, on sand, April 3, 1968. Recent. Scale bar is 1 cm.
The shells of this species have been used extensively by native Americans in the past to manufacture shell beads (Hartzell, 1991; Eerkens, Herbert, Rosenthal & Spero, 2005; Wiggins, 2016).