General description:
Distribution: Western Indo-Pacific realm. West and southeast coast of India and Sri Lanka ( West and South Indian Shelf province) eastward to Bangladesh and Burma (Andaman province).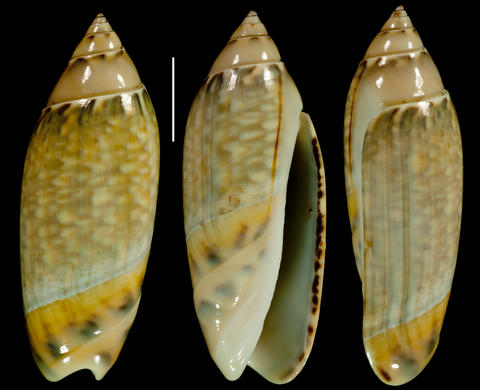 RV 1427. Sri Lanka, dredged. Scale bar is 1 cm.
This is not Oliva nebulosa Lamarck, 1822, under which name it was recognized and figured previously. That taxon, however, represents juvenile Utriculina gibbosa (Born, 1778). Indian, Sri Lankan and Andaman Sea specimens of the species under discussion are commonly misidentified as that species.
Doubtful record: Jay (web article) lists and illustrates a specimen from Réunion (stated to be the single one ever found there), which does not belong to this species but probably is a subadult specimen of Voluta gibbosa Born, 1778.
This is a comparatively small species, most closely resembling immature specimens of the above mentioned Utriculina gibbosa.
Distribution:
Central Indo-Pacific realm. Java Transitional province. Sunda Shelf province. Western Coral Triangle province.
Indonesia. Java.