Felicioliva
Petuch & Berschauer, 2017
Nomenclature
Genus:
Felicioliva Petuch & Berschauer, 2017
SUMMARY
A genus occurring in the Tropical Eastern Pacific realm (Tropical East Pacific province, Galapagos province), but ranging southward into the Temperate South America realm (Warm Temperate Southeastern Pacific province).
Type species is Oliva kaleontina Duclos, 1835 (see below).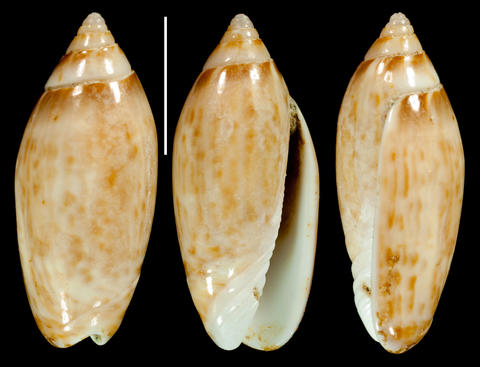 RV 3039. Galapagos, Fernandina Island, trawled by local fishermen, depth 40-60 m, sand bottom, 2006. Recent. Scale bar is 1 cm.
| Taxon | Occurrence |   |
| --- | --- | --- |
| Felicioliva kaleontina (Duclos, 1835) | Gulf of California to Peru and also found at the Galapagos [Temperate Northern Pacific realm. Warm Temperate Southeast Pacific province.Tropical Eastern Pacific realm. Tropical East Pacific province. Galapagos province]. Late Pliocene of Ecuador. | |
| Felicioliva peruviana (Lamarck, 1811) | Tropical Eastern Pacific realm. Galapagos province. Temperate South America realm. Warm Temperate Southeastern Pacific province. | |
| Felicioliva gatunensis (Toula, 1909) | Miocene. Panama. | |
| Felicioliva californica (Anderson, 1905) | Miocene. California, USA. | |