Original description(s):
"Shell not polished; spire produced, acute, suture channelled; aperture wide, effuse in front; callus of inner lip thick, defined; columella simple, or with a few plaits anteriorly.".
Name-Bearing Type:
Type species by subsequent designation (Cossmann, 1899): Oliva biplicata Sowerby, 1825.
General description:
A genus of olivellids from cold-temperate and warm temperate watersof the rthern Pacific Ocean. It is characterised by possessing a simple strong fold at the anterior part of the plication plate and by having an operculum.
Type species is Oliva biplicata Sowerby, 1825 (see below).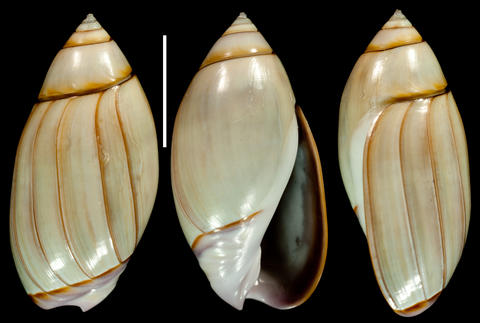 RV 2215a. Canada, British Columbia, Vancouver Island, Young Beach, on sand, April 3, 1968. Recent. Scale bar is 1 cm.