Miniaceoliva concinna concinna
(Marrat, 1871)
Nomenclature
Subspecies:
Miniaceoliva concinna concinna (Marrat, 1871)
SUMMARY
Distribution: Central Indo-Pacific realm. Tropical Southwestern Pacific province (New Caledonia, Vanuatu). Western Coral Triangle province. Eastern Philippines ecoregion (Philippines). Eastern Coral Triangle province (Solomon Islands).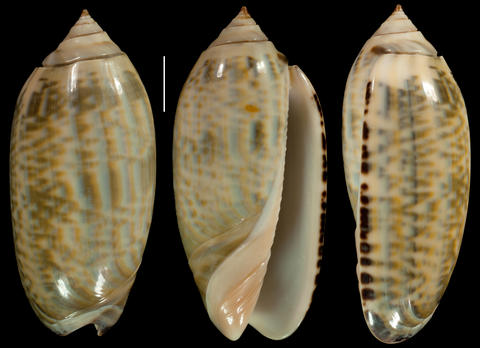 RV 2753a. New Caledonia, North Province, Pouebo municipality, S of Pouebo, Plage de Colnett; depth 6 m, 1994. Scale bar is 1 cm.
RV 7092. Philippines, Roxas province, Johnson Island. depth 50 m, sand and coral. Scale bar is 1 cm.
RV 3431. Solomon Islands, Guadalcanal, Aola Bay. Scale bar is 1 cm.