Who's online
There are currently 0 users online.
Lamprodoma volutella
(Lamarck, 1811)
Nomenclature
Species:
Lamprodoma volutella (Lamarck, 1811)
SUMMARY
Distribution: Tropical Eastern Pacific realm. Tropical East Pacific province. From Mexico to Ecuador (Olsson, 1956) but ranging south to Peru. Most probably erroneous. Mexico, Quintano Roo, Isla Mujeres, in huge beds, 1968 (RV 2225a-b) [Tropical Atlantic realm. Tropical Northwestern Atlantic province]; Tuamotus (Lesson, 1842) [Eastern-Indo-Pacific realm. Southeast Polynesia province].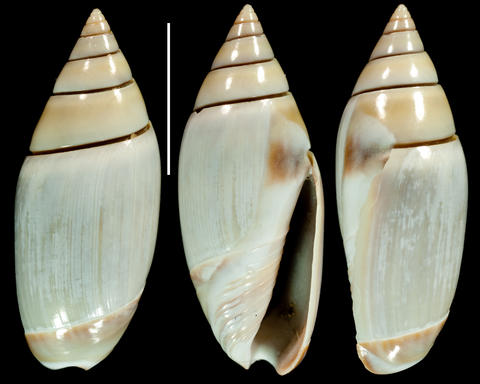 RV 2224a. Mexico, Colima, Manzanillo; January 1969. Scale bar is 1 cm.