Eburna glabrata
(Linnaeus, 1758)
SUMMARY
A large and well-known species from Venezuela, Colombia and Aruba (Tropical Atlantic realm. Tropical Northwestern Atlantic province), and the type species of the genus. Venezuelan specimens usually originate from the Paraguana Peninsula (Falcón state) or from the region around Isla Margarita (Nueva Esparta state). Records from Aruba need confirmation as these may have been introduced on the island by Venezuelan fishermen.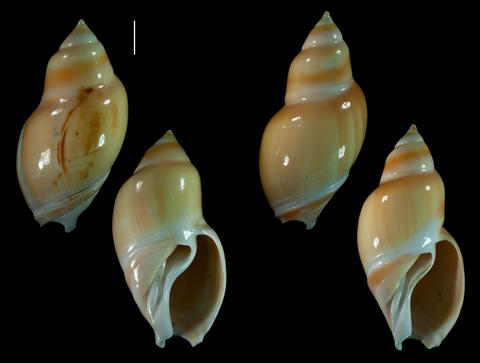 RV 7087. Venezuela, Isla de Margarita; by local fisherman.
RV 2166c. Venezuela, Paraguana Peninsula, Punta Fijo.
Surprisingly little is known about the external morphology of the animal. The single illustration known is that commented upon by Lillico (1986). The black-and-white photograph shows a mottled animal with a comparitively narrow propodium. The metapodium apparently is not bifurcate.