Baryspira elongata
(Deshayes, 1830)
Nomenclature
Species:
Baryspira elongata (Deshayes, 1830)
SUMMARY
Distribution: Miocene. Miocene of the Loire Basin, France. Pliocene. Pliocene of Spain, Portugal and France (Estepona Basin, Spain; Mondego Basin, Portugal).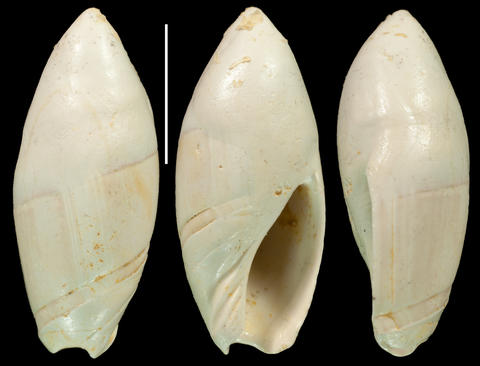 RV 6310b. France, Indre-et-Loire, Paulmy, Pauvrelay [Miocene, Langhian]. Scale bar is 1 cm.
It is usually considered to be a junior synonym of Baryspira glandiformis (Lamarck, 1811) and recorded simultaneously in the Miocene of the Loire Basin (Glibert, 1952). That species, however, growed much larger and has a much stocker, sub-coniform to strongly coniform shell.
However, the current species more closely resembles Baryspira obsoleta (Brocchi, 1814), a widespread, mainly Miocene, species.