Anazola annotata
(Marrat, 1871)
Nomenclature
Species:
Anazola annotata (Marrat, 1871)
SUMMARY
Distribution: Tropical Atlantic realm. West African Transitional province (Senegal and The Gambia). Gulf of Guinea province (From southern Senegal to Angola).
It's shells are quite similar to the those of the type species, Anazola acuminata (Lamarck, 1811) and are often mis-identified. The shellls, however, remain much smaller (< 40mm), have a comparatively higher spire, are even more regularly cylindrical in adult state, and it have a series of small spots or flammules below the filament canal which are always lacking in the type species.
RV 4708a. Guinea, Conakry; offshore, depth 10-20 m; August 1990.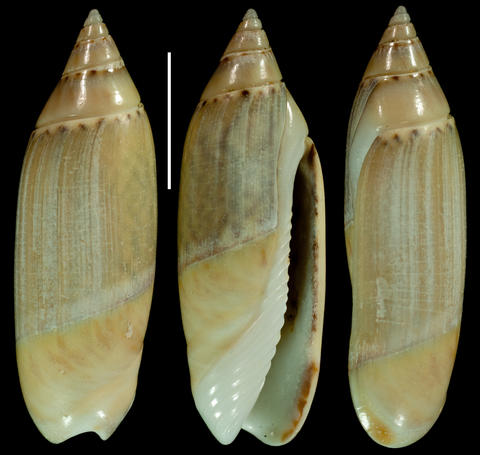 RV 3168b. Gambia, Kotu, Kotu Point, exposed rocks at low tide, crabbed, February 23, 2016. Scale bar is 1 cm.