Americoliva reticularis
(Lamarck, 1811)
Nomenclature
Species:
Americoliva reticularis (Lamarck, 1811)
SUMMARY
Distribution: Tropical Atlantic realm, Tropical Northwestern Atlantic province. Bermudan ecoregion (Bermuda). Bahamian ecoregion (Bahamas). Greater Antlles ecoregion (Haiti, Jamaica). Eastern Caribbean ecoregion (St. Martin/St. Maarten). Southern Caribbean ecoregion (Aruba, Bonaire).
A species mainly recorded from the Bahamas but apparently more widely distributed with scattered populations over much of the Caribbean. It is regarded as a valid species by all contemporary authors. Literature records are often very difficult to positively match with this species, as the taxon was used for a wide range of similar, but distinct, congeneric species.
Pale specimens here been named Oliva olorinella auctt. (not Oliva olorinella Duclos, 1835)
RV 0344. Bahamas, Castaway Cay [Gorda Cay]; in sand, low tide; 2009. Scale bar is 1 cm.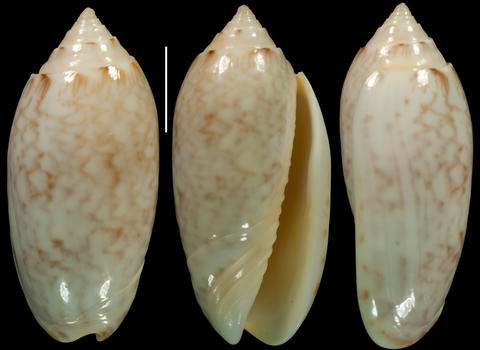 RV 3985. St. Martin, Guana Bay, in sand, August 1992. Scale bar is 1 cm.
The species is protected in Bermuda (Anonymous, 1978).