Americoliva nivosa maya
(Petuch & Sargent, 1986)
Nomenclature
Subspecies:
Americoliva nivosa maya (Petuch & Sargent, 1986)
SUMMARY
Distribution: Tropical Atlantic realm. Tropical Northwestern Atlantic province. Southern Gulf of Mexico ecoregion (Yucatan, Mexico).
A large subspecies (shell length > 60mm).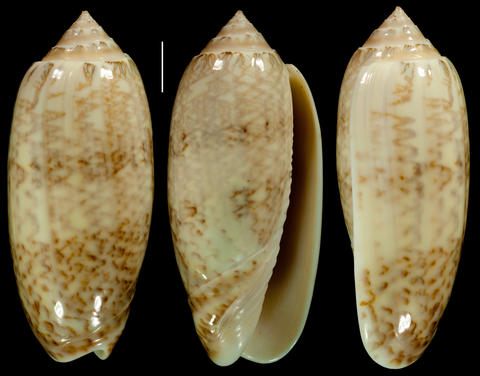 RV 3218. Mexico, Yucata, off Cabo Catoche, day dive, depth 18 m, carbonate sand mong rubble, by lobster fishermen, January 2017. Scale bar is 1 cm.
It may also be confused with the sympatric but probably not syntopic, Americoliva reticularis (Lamarck, 1811) as was done by Brunel (1998), but inspection of figures of the two clearly show the differences.
It most closely resembles, however, the type species of Americoliva, Americoliva sayana (Ravenel, 1834), and has previously been identified as being this species (Vokes & Vokes, 1983; illustrating that taxon and not the current one) or considered to be a subspecies of it (Hunon, Hoarau & Robin, 2008).