Who's online
There are currently 0 users online.
Annulatoliva amethystina
(Röding, 1798)
Nomenclature
Species:
Annulatoliva amethystina (Röding, 1798)
SUMMARY
Distribution: Western Indo-Pacific realm. Western Indian Ocean province (Madagascar, Mozambique, Comores, Mauritius, Tanzania). Central Indo-Pacific realm. Northeast Australian Shelf province (Queensland, Australia). Western Coral Triangle province. Eastern Philippines ecoregion (Philippines). Halmahera ecoregion (Halmahera, Indonesia). Sunda Shelf province (Vietnam), South China Sea province (SW Taiwan). Eastern Coral Triangle province (Papua New Guinea, Solomon Islands). Tropical Southwestern Pacific province (New Caledonia, Vanuatu, Fiji, Tonga). South Kroshoi province (Okinawa) and Eastern Indo-Pacific realm. Central Polynesia province. Marshall, Gilbert, and Ellis Islands province (Kwajalein)
A very common intertidal to shallow subtidal species with an extensive distribution range. 
RV 7000a-b. Tonga, Niuatoputopu; depth 1.5 m, in sand, snorkeling; June 28, 2001.
RV 6971. Solomon Islands, Tulagi Island; in sand at night, 0.6 m. Scale bar is 1 cm.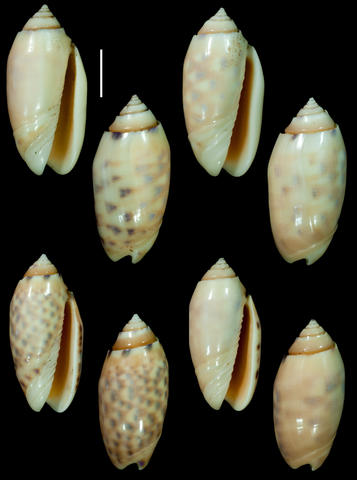 RV 7093a-d. Philippines, Cebu province, Bantayan Island; depth 30 m.